Her Honour Mrs. Patsy LeBlanc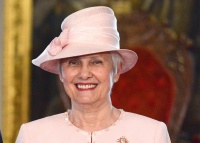 Rosemarie Patricia (Patsy) LeBlanc (nee Lirette) was born on September 21, 1944 in Beresford, New Brunswick. She is the eldest of seven children of the late Gerard Lirette and Thérèse Pitre. She attended schools in Barachois, New Brunswick.
Her Honour was a nun with the Les Filles de Jésus for six years.
Their Honours were married in 1970 and they have three grown sons, Pierre, André, and Robert. They have six grandchildren.
She attended Teacher's College at Collège Maillet.
After completing her studies in 1968, she taught school in New Brunswick and Cape Breton retiring in 1972 to stay home with her children.
Volunteering has been a big part of Her Honour's life. She served on numerous boards and has involved herself in many fundraising efforts. She enjoyed helping in her children's schools and visiting patients in seniors' homes and hospitals. She is presently volunteering in the chemotherapy department at the Victoria General Hospital in Halifax. Her Honour is also involved with Look Good Feel Better, a program that is dedicated to improving the quality of life and self-esteem of women undergoing cancer treatment.
Her Honour is the recipient of the Queen Elizabeth II's Platinum Jubilee Medal (2022) and an Honorary Degree, Doctor of Letters, from Cape Breton University (2023).