Aides-de-Camp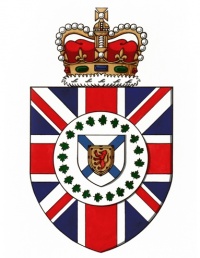 Aides-de-Camp accompany the Lieutenant Governor to and from functions, assist in performing duties, and ensuring proper protocol is followed during events. Aides-de-Camp are appointed to serve at the pleasure of the Lieutenant Governor during a term of office – the appointment is honorary.
An Aide-de-Camp is a serving (or former) member of the Canadian Forces (Navy, Army, or Air Force), the Royal Canadian Mounted Police, or a municipal police force, and is easily recognizable by the 'aiguillette' (gold braid) worn on the right shoulder. An Aide-de-Camp must follow detailed protocol about how they perform their duties and how they dress.
Aide-de-Camp Post-Nominal Designation
Honorary Aides-de-Camp are entitled to the post-nominal letters 'AdeC.' This designation was created by Canada's 20th Governor General, Roland Michener, in 1973 for all honorary Aides-de-Camp who serve the Governor General or Lieutenant Governor.
Badge of the Honorary Aides-de-Camp
The Honorary Aides-de-Camp to the Lieutenant Governor of Nova Scotia are entitled to wear a Badge on their uniforms.
The Badge consists of the Royal Union flag, the shield of the Arms of the province of Nova Scotia surrounded by maple leaves with the Royal Crown approved by Her Majesty The Queen of Canada. The Badge was officially designed by the Canadian Heraldic Authority and authorized by His Excellency the Right Honourable David Johnston, C.C., C.M.M., C.O.M., C.D., Governor General of Canada on 20 May 2011.