Order of the Good Time
The Oldest Social Club in North America
In 1606, a group of intrepid French explorers were preparing for another harsh and depressing winter in the settlement of Port Royal in Nova Scotia. Among this distinguished group were merchant Pierre Dugua, Sieur de Mons, baron and soldier Jean de Poutrincourt, lawyer Marc Lescarbot, interpreter and translator Mathieu da Costa the explorer, cartographer and historian Samuel de Champlain.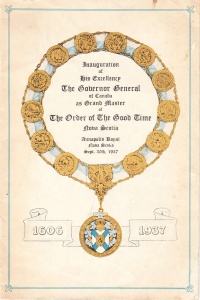 Faced with the dangers of the cold, disease and boredom of the previous two winters, Champlain devised a plan to keep the men in good spirits and hopefully ward off the worst of the dreaded scurvy that took almost half the lives of the original settlers in their first winter. So it was that in November 1606, the first meeting of the "L'Ordre du Bon Temps" was held. Each day, a member of the group would act as Grand Master, assuming responsibility for providing the group with whatever food he could procure with the help of the Mi'kmaq First Nation people and whatever entertainment he could dream up. Champlain's plan was a great success as the daily feasts fortified the settlers' bodies and minds, and they survived the long winter.
Today the Order of the Good Time is celebrated as a bond between the people of Nova Scotia and visitors to the province. Times have changed since the lonely days of 1606 yet the land continues to yield its bounty for communal meals, the deep affection for song and story persists, and visitors continue to command our deepest hospitality. Indeed, all visitors are entitled to membership in the Order of the Good Time provided they agree to four simple requests:
- To have a good time
- To remember us fondly
- To speak of us kindly
- To come back again
The Lieutenant Governor of Nova Scotia serves as Honorary Grand Master of the Order of the Good Time.
Program from the inauguration of His Excellency Lord Tweedsmuir, Governor General of Canada, as Grand Master of the Order of the Good Time. Annapolis Royal, 30th September 1937.