Hereditary Lieutenant General of the Province of Nova Scotia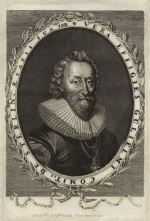 Sir William Alexander was born in Menstrie, Scotland in c.1577. Educated in grammar schools and university, Alexander would go on to be an accomplished poet, author and scholar. His poems became the entertainment of the Royal Court. In 1609 Alexander was appointed Gentleman- Usher to Prince Charles, followed by appointments as Master of Requests for Scotland in 1614 and a member of the Scottish Privy Council in 1615.
Alexander used his connections with King James to establish a "New Scotland" in the footsteps of New France and New England. He was granted the three Atlantic Provinces and the Gaspè Peninsula. This grant however included territory governed by the French, it was known as Acadia. After several years of unsuccessfully trying to encourage Scottish settlers to immigrate to Nova Scotia, King James decided to create the dignity of baronet on any Scottish person who would pay for settlers to set up residence in New Scotland.
The Baronets of Nova Scotia would then become land owners in New Scotland. King James died in 1625 but the royal favour continued with the baronetcies under Charles I. A total of 150 baronets would be permitted and while there was opposition from the Scottish nobility, King Charles discarded the nobility's opposition including his Secretary of State for Scotland and appointed Alexander into this important role instead. Only 85 Baronets of Nova Scotia were actually purchased by 1631 when Alexander was forced to surrender his colony at Port-Royal to the French however the scheme continued with another 25 baronets were permitted though between 1633 and 1637 even after Port-Royal had been surrendered. The King had also earlier granted the coat of arms for New Scotland which remains the official arms of the province today. Alexander died in 1640.