Evenings @ Government House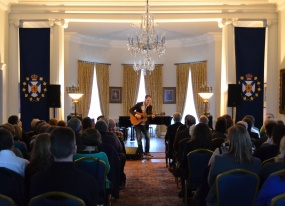 His Honour The Honourable Arthur J. LeBlanc, Lieutenant Governor of Nova Scotia, and Mrs. Patsy LeBlanc invite Nova Scotians to attend a Evenings @ Government House, a public event series designed to showcase the history, heritage, and culture of Nova Scotia.
Each year, the Lieutenant Governor invites approximately ten speakers or performers to entertain and educate audiences. The sessions represent communities across Nova Scotia and featured presenters have included musicians, authors, scientists, historians, athletes, and more.
All events are free of charge and open to the public.
To register for events, please visit the online form, submit requests via email at LGOffice@novascotia.ca, or call 902-424-7001.
If you are not able to attend, please cancel your registration so that guests on the waitlist can be notified. Please contact Government House by email at LGOffice@novascotia.ca or by calling 902-424-7001.
Upcoming Events
Stay tuned for news of future events.