Evenings @ Government House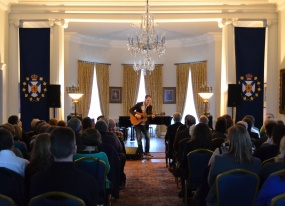 Their Honours, The Honourable Arthur J. LeBlanc, ONS, QC, Lieutenant Governor of Nova Scotia and Mrs. Patsy LeBlanc invite Nova Scotians, particularly those that have never visited Government House before, to attend a public event series designed to showcase civic and cultural excellence in Nova Scotia.
This exciting initiative entitled "Evenings @ Government House" features diverse presenters and performers from a range of communities across Nova Scotia including musicians, authors, scientists, sporting figures and more.
All events run from 7:00pm-8:00pm, are free of charge and open to the public.
At this time, seating is limited to 25.
Registration will only open two weeks before each event and will close on the Thursday preceding the event. Up to 25 names will be randomly drawn and those selected will be notified by the preceding Friday. Guests may reserve a maximum of two seats per registration. Names drawn with an accompanying guest will be allocated two seats. Register online or by calling 902-424-7001.
Click on the event listing for more information on each presenter and registration details.
Each Evenings @ Government House event will be livestreamed on the Lieutenant Governor's Facebook page at the time of the event.