Royal Visitors
For more than two centuries, Lieutenant Governors of Nova Scotia have opened the doors of Government House to members of the Royal family, visiting heads of state and other national and international dignitaries. Some of these notable visitors have included:
In 1860, crowds of school children lined the streets of Halifax to cheer on then Edward, Prince of Wales, as he made his way to Government House.
Princess Louise (1848-1939) and the Marquis of Lorne (1845-1914)
In 1878, Princess Louise and her husband, the Marquis of Lorne, arrived at Halifax where he was sworn in at Province House as 4th Governor General of Canada before heading to Ottawa to assume his duties.
Prince George, later King George V, visited Halifax in 1883, while serving with the North Atlantic fleet. In 1901, he returned with his wife, Mary, Duchess of York, who became the much-loved Queen Mary.
Prince Albert visited Halifax in 1913, and then again as reigning monarch, King George VI, in 1939 with his wife Queen Elizabeth.
After his death in 1952, Queen Elizabeth received the title Queen Mother, and her visits to Halifax included July 1967 - the centennial year – and also in 1979 to open the first Royal Nova Scotia International Tattoo.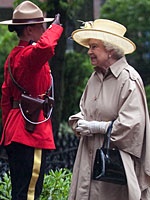 Credit:
Communications Nova Scotia
Before ascending the throne, Princess Elizabeth visited Halifax for the first time in 1951, along with her husband the Duke of Edinburgh. In early 1952, upon the death of her father, George VI, she became Queen Elizabeth II. She returned to Halifax as Queen in 1959, 1976, 1994 and, most recently, in 2010. Here, she is pictured inaugurating the Royal Key at the Government House rededication ceremony. The Duke of Edinburgh has accompanied Her Majesty on all of her official visits to the province, he has also made numerous private visits including an unscheduled stop in 1958 to Springhill, so he could meet with the injured miners and their families after the mine disaster there.
Princess Margaret, Countess of Snowdon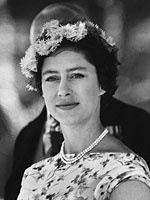 Princess Margaret stayed at Government House during her first official visit in 1958. Thirty years later in 1988 she returned to Nova Scotia to present new colours to the Princess Louise Fusiliers.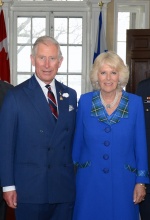 Credit:
Office of HRH The Prince of Wales
Accompanied by the late Diana, Princess of Wales, Prince Charles visited Nova Scotia in 1983. During this significant royal visit, the Prince & Princess of Wales arrived by plane in Halifax and resided on the Royal Yacht Britannia. Then Lieutenant Governor, The Honourable John Shaffner hosted a luncheon at Government House in their honour. Most recently, Prince Charles visited Government House in May 2014 with his wife Camilla, the Duchess of Cornwall. During the visit, Prince Charles was sworn in as a member of the Queen's Privy Council of Canada by the Governor General, His Excellency the Right Honourable David Johnston in the Drawing Room of Government House.
The Princess Royal made an official visit to Nova Scotia in 1991 to open the International Gathering of Clans. Her Royal Highness also toured the Black Cultural Centre in Dartmouth and visited Pictou where she reviewed the progress of the building of the replica of the ship Hector.
Prince Andrew was in Halifax to officially open the Royal Nova Scotia International Tattoo in June 1985 and has subsequently visited Halifax on several personal and official visits.
Prince Edward was in Halifax to officially open the Royal Nova Scotia International Tattoo in June 1987, and has subsequently visited Halifax on several personal and official visits. In 2000, he visited Halifax to present Duke of Edinburgh Awards to youth at Pier 21. Then Lieutenant Governor, the Hon. Myra Freeman, held a luncheon at Government House in his honour; his wife, Sophie, Countess of Wessex, accompanied him on this private visit.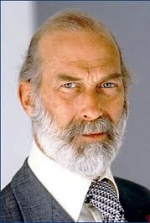 Credit:
Office of HRH Prince Michael of Kent
Prince Michael of Kent is the youngest son of the late Prince George, Duke of Kent (a younger brother of King George VI). He has visited Nova Scotia twice, first in 1984 when he came to celebrate the 75th anniversary of the flight of the Silver Dart at Baddeck and then again in 2002, when he returned for a private visit. His father had also visited Nova Scotia in 1941 to visit air bases and training centres during World War II.
Princess Alexandra, The Honourable Lady Ogilvy
Princess Alexandra is the only daughter of the late Prince George, Duke of Kent (a younger brother of King George VI). With her mother, Princess Marina, Duchess of Kent, she visited Nova Scotia in 1954 where they were warmly greeted by then Lieutenant Governor, The Honourable Alistar Fraser. In 1973, Princess Alexandra also made a second official visit to the province to celebrate the 200th anniversary of the arrival of Scottish settlers in Pictou County. A garden party was held at Government House in her honour.
In 1995, Canada hosted the G7 Economic Summit in Halifax. Government House became the temporary residence of Prime Minister Jean Chrétien.
All nine heads of state, including US President Bill Clinton, British Prime Minister John Major, French President Jacques Chirac, German Chancellor Helmut Kohl, Prime Minister Lambarto of Italy, Japanese Prime Minister Tomiichi Murayama, European Commission President Jacques Santer and special guest Russian President, Boris Yeltsin, visited Government House at the invitation of the Prime Minister.