Lecture by Dr. Donald M. Julien "The Involvement and Sacrifices of Mi'kmaq in the First World War"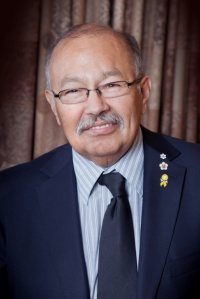 Date:
Tuesday, October 7, 2014 -

7:00pm

to

8:30pm
Location:
Government House, 1451 Barrington Street, Halifax
Registration open:
Tuesday, September 23, 2014
Dr. Julien is a Mi'kmaw Historian, Human Rights Advocate, and Leader. With over 40 years experience researching and documenting Mi'kmaw history, Donald shares his knowledge and experiences through speaking engagements, University Lectures, and research papers. He brings a well grounded and unique Mi'kmaw perspective to current issues.
Donald is a peace time veteran of the Canadian Armed Forces, has served with Queen's Own Rifles of Canada, in both the Second Battalion in Calgary, and with the First Battalion in Esquimalt, and has served in the United Nations Peacekeeping Tour in Cyprus. Donald is presently serving on Community Liaison Advisory Committee for Maritime Command for the Admiral of Canadian Navy. He has been an Advisor to the Commissioners of the RCMP and the Advisor to the Auditor General of Canada on First Nations Issues.
Donald has 27 years experience with Confederacy of Mainland Mi'kmaq, and has held the position of Executive Director of the Confederacy of Mainland Mi'kmaq since 1994. Donald is a member of both the Order of Canada and the Order of Nova Scotia. He has earned the United Nations Peach Keeping Medal (Cyprus), the Canadian Peacekeeping Service Medal, the Queen's Golden Jubilee and the Queen's Diamond Jubilee Medals. He has received two Honorary Doctorate Degrees in Civil Laws and Humane Letters Acadia University and Mount St. Vincent Universities respectively. In 2012, he donned the Canadian Army uniform once again becoming the third Honorary Lieutenant-Colonel of 3 Intelligence Company at the very same location where he signed—on 45 years earlier.
On July 27th 2014, Dr. Julien was sworn in as one of the newest Members of the Traditional Mi'kmaq Territorial Government, "The Mi'kmaq Grand Council" as a Captain on a life time appointment. Donald is a family man, and currently lives in Truro, Nova Scotia along with his wife Diane and four children, seven grandchildren and three great-grandchildren. In his spare time Donald is a sports enthusiast, an avid golfer and enjoys reading and researching history.