Evenings @ Government House with Pianist Devin Huang
Friday, February 25, 2022
Their Honours are happy to announce that the next Evenings @ Government House performance will take place in person. Registration is now open for an evening of music with pianist Devin Huang on Tuesday, March 8th at 7:00 PM.
About the Performance
Since being introduced to the piano at the age of 7, Devin has made his mark on the Canadian music scene. CBC Music has named him as one of Canada's "30 under 30" classical musicians and his performances have aired on CBC TV News, CBC Radio One and CBC Music. He has also been a featured soloist with Nova Sinfonia, the Cecilia Concert Series, the Scotia Festival of Music and the Musique Royal.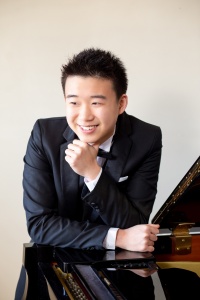 In addition to scheduled performances, Devin competes in music competitions at both the provincial and national levels, often as the youngest competitor in his category. He has represented Nova Scotia at the Federation of Canadian Music Festivals National Competition and at the Canadian Federation of Music Teachers' Association Piano Competition. At the Nova Scotia Kiwanis Music Festival, Devin has placed first in all of his classes and has won numerous prizes including the President's Cup and the Yamaha Canadian Rose Bowl. He has also been the Junior and Senior Piano Prize winner at the Nova Scotia Provincial Finals.
Devin is currently a Grade 10 student in Halifax, Nova Scotia, and has studied piano under Professor Lynn Stodola since 2016. He would like to acknowledge the music community in Nova Scotia for generous support and scholarship opportunities over the years. The reception he has received continues to inspire Devin to strive towards a career as a professional pianist.
Register for the Performance
To register as a guest, please fill out the registration form by clicking here.
As an alternative, guest may register via email at lgoffice@novascotia.ca or phone at (902) 424-7001.